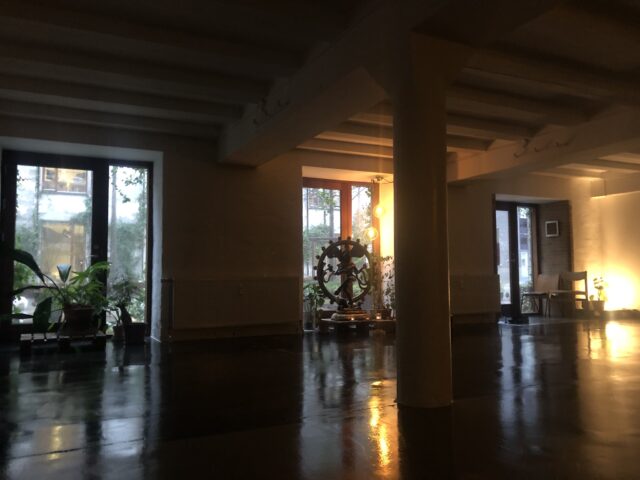 Foto : Tidlig morgenstemning i yogastudiet
PAKHUS YOGA er Islands Brygges ældste yoga studio og ligger i hjertet af Islands Brygge,
til huse i de historiske FDB bygninger, tilbagetrukket fra Njalsgade.
Vi tilbyder hjertevarm yoga på alle niveauer.
Undervist af nogen af byen mest erfarne og dygtige yogalærere med mere ens 20 års erfaring.
Vores tilgang er uprætentiøs, teknisk (alignment based) og alle er velkomne.
Fokus er på at lære og praktisere yoga for at have det godt i krop og sind .

Vi har mange forskellige typer yoga og masser af klasser hver uge.
Vi afholder ofte spændende events, har studiepriser og altid varm te på kanden.
Vi glæder os til at byde dig velkommen!
______

PAKHUS YOGA is the oldest yoga studio at Islands Brygge and is located in the heart of Islands Brygge,
housed in the historic FDB buildings, set back from Njalsgade.
We offer yoga at all levels.
Taught by some of the city's most experienced and skilled yoga teachers with more than 20 years of experience.
Our approach is unpretentious, technical (alignment based) and everyone is welcome.
The focus is on learning and practicing yoga to feel good in your body and mind.
We have many different types of yoga and lots of classes every week.
We often hold exciting events, have student prizes and always hot tea on the jug.
We are looking forward to welcome you!
Gem